Strength and Body is a feature-packed fitness and workout journal blog network and community. It was designed to solve all the problems that come with most online journal trackers, as well as online journals maintained on public forums. Read below to learn more about all of Strength and Body's incredibly useful features.

Categorized, Searchable, Easy to Find Entries

Every single workout or post you enter into your Strength and Body account can be categorized - either by the default categories every account is created with - or by custom categories you wish to use. To find a workout from a specific category, simply click a category link to pull up all workouts for that category.
Additionally, previous posts and workouts are easily retrieved using the calendar tool, and recent posts list. No more paging through tons of comments to look back on your previous efforts. Tracking progress and looking up what you have done in the past has never been easier.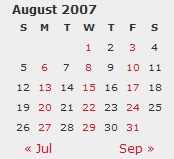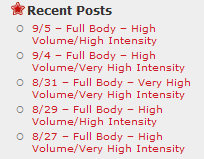 Customizable Information Pages about YOU

By default, every Strength and Body account has four ready to fill-in pages that tell other users about yourself. You can fill in basic information about yourself in the About page, and use the Routine, Goals, and Accomplishments pages to tell everyone more about your fitness background. Additionally, you can create, modify, or delete totally new and unique pages for yourself.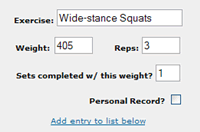 Efficient Workout Entry Tool

Unlike any forum based workout journal, and unlike most web-based workout journal systems, Strength and Body offers a single-page easy-to-use workout entry tool that allows you to enter detailed workouts in just a few minutes. No wizards or pages to page back and forth through - simply add an exercise with its details, and add it to the exercise list for that workout. Additional information like workout comments, workout duration, post-workout activities, and more can all be added via the workout entry page as well. Workouts can then be categorized appropriately before submitting the entry to your Strength and Body journal.

Personalized Look and Feel for Your Journal

Strength and Body allows you to choose from various customizable themes that give your blog your own look and feel. Themes are highly customizable - allowing you to change colors, organize content placement, change fonts and text sizes, and much more.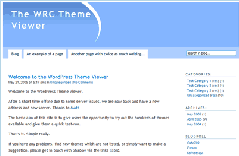 Multimedia Embedding and Storage

Strength and Body's workout journal system gives you 10MB of free storage for personal videos and pictures. These videos and pictures can be embedded directly into your workout entries and blog posts for viewing.

Be Your Own Moderator

Forum based journals can be plagued by spammers and unwanted comments, detracting from the true purpose of your workout journal. At Strength and Body, each user is their own moderator. You can delete or edit any unwanted comments, as well as opt to have each comment put in a review queue before you allow it to be posted.

Customizable Friends List

Strength and Body allows you to link to other Strength and Body community friends, as well as external websites, with your own Friends list in your journal.